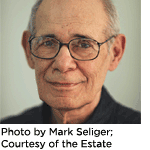 "I attempt through my imagination, to make visible the structure of matter….I do not observe parts of nature under the microscope; I am not dissecting or analyzing. I have an emotional and intuitive awareness of nature."
-Charles Seliger
Born Charles Marvin Zekowski in New York City in 1926, Charles Seliger had a turbulent childhood during which he moved frequently due to the precarious finances of his divorced parents. In 1940, Charles and his mother, Hortense Seliger, moved to Jersey City, and Charles Zekowski took his mother's surname, becoming Charles Seliger. While living in New Jersey, Seliger made frequent trips across the Hudson to see Manhattan's many museum and gallery exhibitions, often with friend and artist Herman Zaage, who taught at the New School for Social Research. In 1941, Seliger moved to Baltimore, where his mother had found employment. Seliger learned how to hand-color and airbrush photographs, which earned him a job at a department store.
Although he never completed high school or received formal art training, Seliger immersed himself in the history of art and experimented with different painting styles including pointillism, cubism, and surrealism. In 1942, he participated in a group exhibition organized by the Painters and Sculptors Society of New Jersey. In 1943, Seliger befriended Jimmy Ernst and was quickly drawn into the circle of avant-garde artists championed by Howard Putzel and Peggy Guggenheim. Two years later, at the age of nineteen, Seliger was included in Putzel's groundbreaking exhibition A Problem for Critics at 67 Gallery, and he also had his first solo exhibition, at Guggenheim's legendary Art of This Century. Seliger became the youngest artist exhibiting with the abstract expressionists, and he was twenty years old when the Museum of Modern Art acquired his painting Natural History: Form within Rock (1946) for their permanent collection. In 1949, Seliger had his first major museum exhibition, at the De Young Memorial Museum, San Francisco, and a year later, he joined the stable of artists at the prestigious Willard Gallery, owned by Marian Willard. He formed close friendships with several of her other artists, including Mark Tobey, Lyonel Feininger, and Norman Lewis.
While Seliger was closely associated with abstract expressionism, he also challenged its parameters, as Francis O'Connor and Michelle DuBois have noted. Where abstract expressionists pursued the painted gesture on large canvases, the traces of Seliger's presence came from the exquisite details of the infinitely vast worlds he created on small canvases—evidence of the patience, discipline, and imagination of their creator. Possessed of an expansive intellect and generous spirit, Seliger pursued an inner world of organic abstraction, celebrating the structural complexities of natural forms. Attracted to the internal structures of plants, insects, and other natural objects, and inspired by a wide range of literature in natural history, biology, and physics, Seliger paid homage to nature's infinite variety in his abstractions. His paintings have been described as "microscopic views of the natural world," and although the characterization is appropriate, his abstractions do not directly imitate nature so much as suggest its intrinsic structures.